Watch this little promo and introduction for Affinity Photo.
Affinity Photo by Serif is a new photo editing software that is very similar to Photoshop but there is no ongoing monthly cost. It's a one time fee and it's VERY AFFORDABLE at only $30.99 for the iPad version or $79.99 AUD for the Mac or Windows version.
My first impressions of the software was just how similar to Adobe Photoshop it is, that it runs very fast and it actually seemed pretty smooth transitioning over from Adobe Photoshop to Affinity Photo and of course it's price! (See below) it's sooooo cheap, I was actually (fist pumping) surprised at how affordable it is for what you get!
Could this be the end of Adobe Photoshop? or could this be a new player on the market that fills a space that Adobe isn't willing to fill.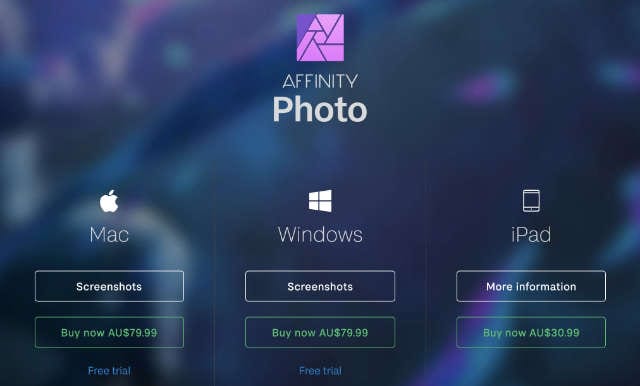 Watch the video below for a bit of an overview of the UI.
Leave a comment below on what you think about Affinity Photo and whether you think it could replace Adobe Photoshop for editing photos. I've been using it now for a good few months and I have to say I'm very very impressed with it.
It's fast, easy to use and seems to be able to do everything that you can do in Photoshop (sometimes it's almost identical, other times there is a slightly different way of doing things).
One thing that isn't available in Affinity Photo is a replacement for Photoshop Actions. This maybe something that is added in future versions but that is yet to be seen.
Let me know if you would like to see more tutorials or have more info about Affinity Photo. Have an awesome day. Leave a comment below now with any thoughts.